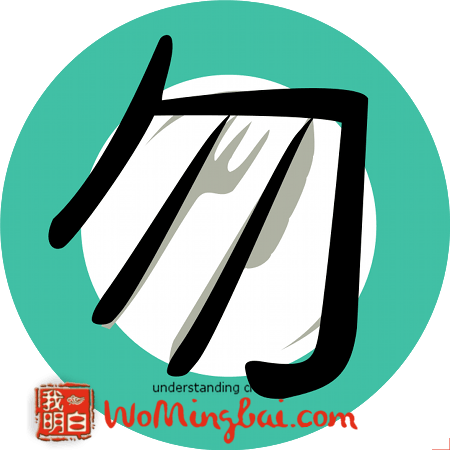 勿 (wù)
do not
Again please think of the plate we had for 勹 (bāo). Now place a fork and a knife on it - in the European style of eating. Well, in China you do not eat with fork an knife - do not.
HSK-Level: HSK 5
HSK Word: 勿 (wù) - not; do not
Frequency: 2563 out of 9933
Popular words with 勿:
勿 (wù) - not; do not
非诚勿扰 (fēichéngwùrǎo) - serious inquiries only
切勿 (qièwù) - by no means
匆 (cōng)
hurriedly
You remember the plate with fork and knife (勿), right? Well, if you meet an open minded Chinese who is curious on western culture he might be using fork and knife for eating. BUT if he needs to eat hurriedly or in haste he REALLY needs to use his chopsticks (the line crossing the fork and knife in the character 匆.
HSK-Level: HSK 5
HSK Word: 匆忙 (cōngmáng) - hasty; hurried
Frequency: 1622 out of 9933
Popular words with 匆:
匆匆 (cōngcōng) - hurriedly, hastily
匆忙 (cōngmáng) - hasty; hurried